Haryana Schools List Zone Wise 2022- Zone wise List of School in Haryana – DSE Haryana school list zone wise List of Primary, middle, high and senior secondary school 2022-2023 – Government schools of Haryana list zone wise for transfer of Teachers JBT/PRT, TGT/Master and Lecturer/PGT  – school list of district Yamuna Nagar, Sonipat, Sirsa, Rohtak, Rewari, Panipat, Panchkula, Palwal, Nuh Mewat, Mahendergarh,  Kurukshetra, Karnal, Kaithal, Jind, Jhajjar, Hisar, Gurugram, Fatehabad, Faridabad, Bhiwani, Ambala
हरियाणा स्कूल सूची क्षेत्रवार 2022- हरियाणा में स्कूल की जोनवार सूची – डीएसई हरियाणा स्कूल सूची क्षेत्रवार प्राथमिक, मध्य, उच्च और वरिष्ठ माध्यमिक विद्यालय की सूची 2022-2023 -जेबीटी / पीआरटी , टीजीटी / मास्टर और व्याख्याता / पीजीटी शिक्षकों के स्थानांतरण के लिए हरियाणा के सरकारी स्कूलों की सूची क्षेत्रवार
Haryana School List Zone Wise
If you are searching for zone wise school list of Haryana state, then you are on right place. Here you can find list of DSE Haryana school list Zone wise of various district of Haryana. There are Government schools situated at various villages and town in Haryana. Department has divided these schools into 7 zones as per distance from district headquarter and block headquarter. Zone number has been decided according to distance of school from district headquarter and block headquarter.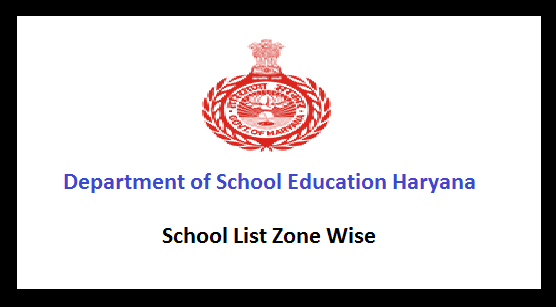 DSE Haryana School List Details
| | |
| --- | --- |
| Topic | School List Zone wise |
| State | Haryana |
| Department | Directorate of Secondary Education Department -DSE Haryana |
| DSE Haryana Official Website | Click Here |
You can find and download zone wise list of Primary school, Middle school, High School and Sr. sec. school of Haryana in this article from the link given below.
You can download district wise Zone wise school list  mentioned below:-
How to Download Zone wise School list DSE Haryana Govt Schools?
Click on the link mentioned below.
Now click on the link of your district school list.
Download and Save or Print list for use.
To download your district school list click on the link below and download zone wise school list of your district.
Click Here to Download list of schools zone wise
Department of school education Haryana had prepared the Zone of school in 2016 due to new online transfer policy of Haryana state. Department of school education Haryana had done a large number of teachers transfer through this online transfer portal named as MIS portal.
Teachers have to fill their school preferences according to zone. So Zone wise school list is very important for teachers. So for your help we have provided district wise zone wise school list for download. You can download the list and check zone of your school and make choice in transfer preference.